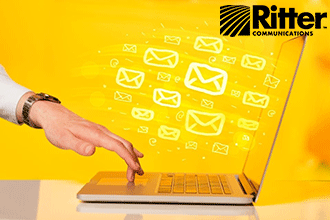 Email has long been the most common business communication tool in our society, and choosing the right email address can have a significant impact on your business. Your email address can tell people who you are, build credibility and trust and give you the fluidity you need to make the best decisions for your company.
In recent conversations with a number of businesses, one of our Ritter Communications sales representatives has found that many companies are being held hostage by their email address. Many businesses use an email address that is given to them by their internet service provider, such as John.Johnson@AlphaBetaCommunications.com. That email address, which is printed on their business cards and advertising materials, is the primary point of contact for their business.
The Ritter sales rep gathered a quote for a few businesses that would have saved them money and provided them with better products – such as fiber internet instead of a slower cable service – but the company couldn't take the superior deal Ritter offered because their email address tied them to their current provider. Switching to the more cost effective and efficient service from Ritter would create confusion for the business's clients and leads, and it would require them to reprint all of their marketing materials.
It's extremely important that you personalize your business email address so you don't get stuck with a service provider that isn't best for you. Ritter Communications can set up a domain for our customers, or for just a few dollars, you can purchase a domain name from Google or GoDaddy that tells your customers something about your business, like Mike@SmithAutoSales.com or Jenny@BestBoutique.com.
Gmail, Yahoo! and MSN email addresses are great for personal use, but a customized address makes a much more professional impression. When people see a generic email address, especially from someone soliciting business, it often sets off their "spam radar." A personalized address is much less likely to make them pause.
If you're interested in hearing about how Ritter Communications can help your business improve its efficiency through technology solutions, please click here to have someone contact you. Or, of course, you can use your favorite method of business communication and email us at sales@rittercommunications.com.