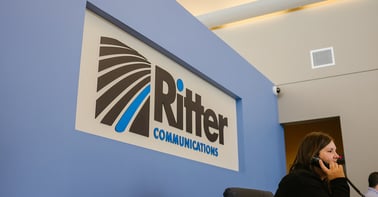 A few years ago, Sheryl Crow wrote a song called "Easy" about how much she appreciates the convenience of a "staycation." Rather than going through the hassle of travel, she was content to stay home and enjoy a simple vacation. The bigger point is that people value convenience. We like things to be easy.
At Ritter Communications, we often talk to prospective customers who are resistant to change. We present them with an opportunity to help make their company more efficient and effective. They like Ritter's unique customer service abilities, they enjoy doing business with a local telecom provider and they're excited about our products.
But when it comes time to make the switch, they just don't want to bother with the change. Usually that's because they don't understand just how easy Ritter Communications makes the process. It requires very minimal effort on the part of the customer because we handle everything for you.
When customers are considering a change, we're commonly asked three questions, and we want to answer those for you here.
Do I have to change phone numbers when I change service providers?
No! We work with your current provider to "port" all of your numbers to our service. You won't have to update business cards, your website or any other marketing materials because none of your information will change.
How much effort is required of me?
Very little. Our team of project managers handle the entire process for you. They have a checklist they go through as they coordinate all the details of the installation. The extent of the business owner's responsibility is scheduling the installation and letting our technicians into your location at the appropriate times.
How long will my service be down during the transition?
It only takes a few minutes to switch services once our installation is complete. We schedule the downtime when it's most convenient for you so we don't interrupt the flow of your business.
If you're considering a switch to Ritter Communications, do not let the installation process deter you. Just like Sheryl Crow, we value convenience and we assure you we'll "make it easy."
Click here to schedule a consultation with one of our sales representatives.