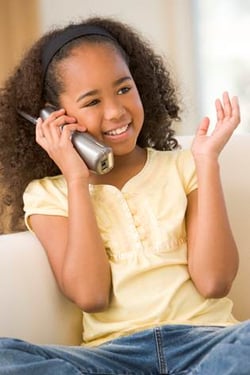 Many people think a landline phone is an old, outdated technology that belongs in a museum instead of their living room. However, traditional phone service still has a lot to offer even in the era of cell phones and phablets. Here are five great advantages to consider before ditching your landline.

1. E-911
In the event of an emergency, your home phone is the best way to call 911. Even if you can't speak, the dispatcher knows your address and can quickly send help. This is a great advantage if you have small children, an aging parent or poor cell phone signal at your house.

2. Dependability of service
You may be limited to where you can use your home phone, but you can't beat the dependability and clarity of traditional landline service. Since it doesn't rely on cell phone signals, it consistently delivers crystal clear voice quality.

3. Message phone
Sometimes you just don't want to give out your cell phone number. Whether it's for a credit card application or a new acquaintance, it's nice to have an alternative number you can use to screen your calls.

4. Convenience
It's great to have another way to reach your spouse or children at home. And, if all else fails, your landline comes in handy when you've lost your cell phone. Whether your toddler hid it in the couch or it's buried at the bottom of the laundry hamper, a quick call from your landline is all it takes to locate it.

5. Saving money
Many companies offer discounts when you bundle your home phone with other services like television and internet. A landline is also a great way to save the cost of additional minutes on your cell phone.

While cell phone use has understandably surpassed that of the traditional home phone, landlines remain valuable tools that many people continue to find useful. Its purpose may have changed over the years, but the home phone continues to be an asset worth considering.