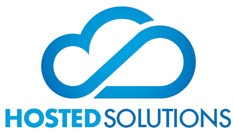 If you've heard of cloud computing, you might wonder if it's right for your business. Ritter's cloud computing service, also referred to as Infrastructure as a Service (IaaS), has revolutionized the way businesses are able to operate. Instead of purchasing a server and having it located on-site, Ritter's cloud services give you remote access to carrier-grade servers and infrastructure remotely.
What is Cloud Infrastructure?

Cloud infrastructure is a segment of cloud computing. It allows you to connect to a server in a remote location to compute and access stored files.
Savings
Servers are expensive. And like most things, the bigger and better it is, the more it costs. Servers for small businesses usually end up becoming outdated or outgrown before they are paid off, and large businesses need to hire designated IT staff just to set up, troubleshoot and support their servers. With Ritter's IaaS, businesses pay only for what they use. Best of all, you're not on the hook for equipment repairs and replacement every few years. Big or small, every business wins.
Scalability
Like most utilities, the system is scalable — whether business is booming or slow, you pay only for the resources you need. If you take on new clients, you have the extra horsepower to get through, and when you make it to the slow season, you're not anchored to a hefty bill. With cloud computing, you get the biggest and the best regardless of your business's size.
Security
Enjoy the convenience of cloud computing without worrying about privacy or security. Ritter's On-Net cloud provides a private path for your data to traverse without accessing the public internet. Ritter employs N+1 redundancy in two geographically diverse sites with network redundancy and a 99.999% uptime SLA. In our state-of-the-art facility, your data will be stored in a climate-controlled, secure building with backup power so it's always available when you need it.
Speed
Since customer data is stored locally (in the region), latency isn't a concern. With our high-speed connections, just like loading a webpage, you won't notice the data isn't stored on-site.
With hosted and virtual servers, we take care of infrastructure, maintenance and security — all you have to do is log in, migrate your data and access it. We run the infrastructure; you get steadfast, reliable service. For more information on cloud computing, contact Ritter Communications at 844.347.4126 or click here.