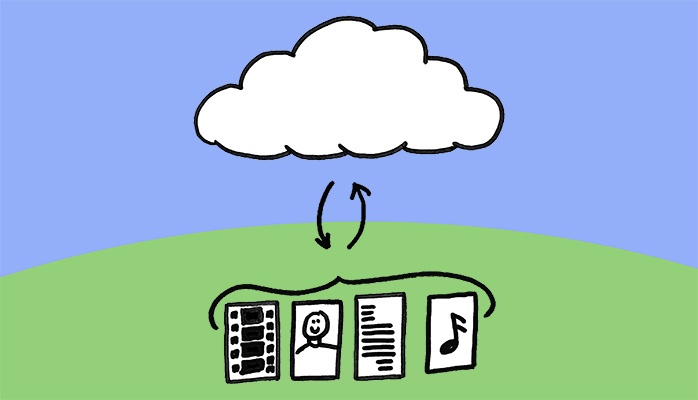 A few years ago I lost a hard drive containing some pretty important stuff. Admittedly it was stuff that was only important to me, but it was stuff that I didn't want to lose. I turned on my computer and quickly realized I had a serious problem.
I vowed to never let that happen again, so I bought an external, USB hard drive. The software that was packaged with the drive allowed me to schedule regular backups, so I didn't have to worry about forgetting. It was a huge drive. I didn't have to worry about filling it up, so I would regularly backup files to the external drive and delete them off my computer's limited hard drive. I finally had a solution; until the external hard drive died. There I was…twice burned by drive failure.
There was a stint when I backed up everything to CD, DVD, USB drive, AND multiple computers. I quickly realized that my new solution wasn't working either. Sure, I had my important documents spread over different storage media, but I had multiple versions of files. I couldn't always remember where I put specific files. It was a disorganized mess.
To fix my issue, I researched various Network Attached storage devices, redundant drive arrays, and mirrored hard drives, along with the appropriate battery backups. All of these solutions were expensive and offered limited access.
There must be a better way.
There is.
Today, I back up all of my important files, and less important files, to the cloud. In truth, I don't know where I would be without my Dropbox account. I can access my files from my phone, my tablet, my home computer, my work computer, my wife's computer, my son's tablet, or your computer. It is convenient and protected.
There are a growing number of players in this market. Google Drive, Amazon Cloud Drive, Apple iCloud Drive, and Microsoft OneDrive all offer various types of cloud storage. Most of these services offer a limited amount of FREE storage. They also have options for larger capacity at lower prices and business plans.
The great thing about cloud storage is that you don't have to worry about redundancy, storage capacity, or emergency power. You can sync your data so that you have access to it even if you don't have internet access.
For corporate solutions, you should really look at a more robust colocation service. There are companies that will rent rack space in their data centers so you can store either your primary or a backup server in their secure environments. They offer guaranteed access with multiple layers of physical and virtual security.
For my personal data, I use a Dropbox 1TB plan to store the stuff I don't want to lose. Our work data is backed up to a collocation facility across town. Whether you're looking for a personal or professional solution, make sure you do your homework to find the option that works best for you.