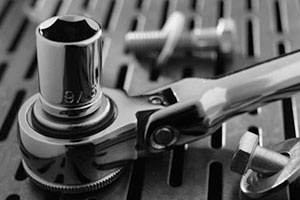 While doing research on broadband connectivity, I kept seeing article after article dealing with Internet security fears. I was genuinely surprised. Have I become so accustomed to living in a connected world that I have become blind to its dangers? The more I thought, the more I realized that it is a matter of risk and reward. Are there risks? Certainly. Are there rewards? Absolutely.
For businesses in our world, the rewards far outweigh the risks. An unconnected business will struggle to keep pace in a connected world. In truth, it may not even be possible for very much longer.
To ease my mind, I called a friend, the owner and only employee of the radiator shop where I turned wrenches in high school and college. I told him I was working on an article about how small businesses were using the internet and explained that I would like to ask a couple of questions. He said, "I don't use the internet". What? How is that possible? I remember when he got his first computer running windows ninety-something and started using QuickBooks. The first fax I used was there, as well as the first car phone (installed in his truck). I remember when he started printing checks from the computer. I thought maybe he didn't understand, so I asked how he gave his records to the accountant, and he told me that he drove them the 2 miles to his office. I was silent for a few moments pouring through a thousand reasons why he NEEDS to be connected. He broke the silence by admitting that he should be on the internet and that it is inevitable. Then he sighed and told me he dreaded it, and that his teenage daughters would have to teach him. He went on to tell me that his latest parts book (physical, paper catalog) was already 4 years old and he doesn't know if they will print another.
He told me that original, 17 year old computer just died, but assured me that it only lived that long because it wasn't on the internet where it would have gotten a virus.
As a marketer for a broadband company, I was taken aback. I don't think fear is his issue, but why did his technology growth stall? Does he just not understand how it works, how to use it, or how it would benefit him? Does he just not care? I need to do something, but what?
It has been too long since he and I have eaten lunch. Maybe I can start with a hot meal and an exploratory conversation.