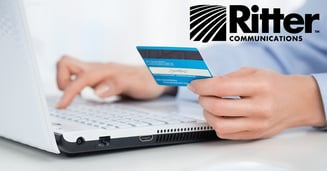 Ritter Communications provides our customers with a number of convenient ways to pay their bills. We recently became aware of a company that's creating some confusion when it comes to that process, so we want to give you some pointers to make sure we receive your payment accurately and efficiently.
If you type "Ritter Communications bill pay" into popular search engines like Google or Yahoo!, one of the top results you'll see is from a company called Doxo.com. This company has linked itself to Ritter Communications but is not in any way affiliated with us. If you make a payment through a third-party vendor like Doxo, they'll likely charge a convenience fee in addition to your Ritter Communications amount due. Additionally, it often takes longer for us to receive payments made through third-party websites. Delays could potentially cause you to incur late fees or even result in a disruption of service.
We recommend submitting payment through one of many avenues that are affiliated with Ritter Communications. Here's a few ways you can pay:
Pay Your Bill Online - Visit RitterCommunications.com/ebill to pay your bill through our official, secure website. When you login to our e-bill site, you can make a payment, sign up for paperless billing and sign up for auto pay, which automatically deducts your payment from your bank account or charges your card each month without you having to remember to submit payment every few weeks. When you sign up for auto pay, you'll receive a $1 discount each month.
Visit a Payment Center - We have six office locations throughout our service areas where customers can pay their bill in person and nine additional businesses, such as grocery stores with a bill payment center, that accept our bills. Click here for a list of our bill pay locations. Ritter Communications offices are open weekdays from 8 a.m. to 5 p.m. Check business hours of our affiliates for their available times.

Give Us a Call - If you prefer to make a payment over the phone, one of our Customer Care Representatives will happily assist you. Call 888-336-4466 to make a payment between. Customer Care Reps are available between the hours of 8 a.m. and 7 p.m., and our auto attendant will help you make a payment outside of those hours.

Pay By Mail - You are always welcome to mail your payments to us. Please use the pre-addressed envelope that comes with your statement, or mail payments to:
Ritter Communications
PO Box 9661
Conway, AR 72033-9661