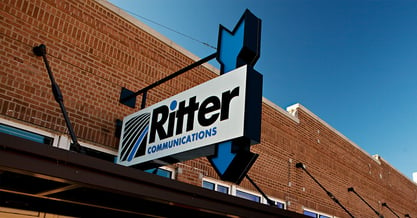 More than 100 years ago, Ritter Communications installed our first telephone exchange, and we've proudly helped connect people and businesses in this region for over a century. We love serving businesses in Arkansas and Tennessee because we ourselves are a local business that cares deeply about the success of our communities.
The Ritter story began in the late 1800s, shortly after Ernest Ritter moved to what is today known as Marked Tree, Arkansas. The area was booming as the timber industry drew thousands of people to Northeast Arkansas, and Ernest Ritter opened a general store in 1889 to supply dry goods to the growing town.
As the community grew, a host of other services were needed, and Ernest Ritter's entrepreneurial acumen allowed him to meet many of those demands. Over the next few years, he opened a number of small businesses, and he needed a way to connect them so he could be reached as he moved about his day. In 1906, Ritter installed a 10-line telephone switch in the back of his general merchandise store. As Marked Tree residents became aware of the technology's existence, they quickly voiced a desire for phone service, and later that year, the Marked Tree City Council approved a 30-year telephone service contract between the city and Ritter.
Technology has changed drastically over the years, and so have we. We started as the local telephone company, and we now offer advanced internet, phone, video services and cloud solutions to businesses and residents throughout Arkansas and Tennessee. We also boast an optical network that includes more than 3,000 route miles of fiber with connectivity that spans 11 states.
Our carrier-grade network is certified at the highest levels for security and dependability. We couple that with a unique customer service experience to provide telecommunications services that are typically found only in major metropolitan areas. We are a devoted community partner, so much so that we annually contribute to more than 150 charitable organizations that operate in our service areas.
Ritter Communications is a fifth-generation, family-owned company. Despite our immense growth, we remain headquartered in this region because we remain deeply committed to the area.