Ritter Communications will soon make some changes to our basic cable TV lineup in Northeast Arkansas/Southeast Missouri, and many customers may wonder why we're doing so. The changes are in response to requests from several broadcast stations, and the moves are necessary to comply with Federal Communications Commission (FCC) rules.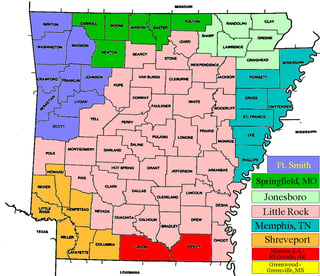 This map shows a breakdown of Designated Market Areas (DMAs) in Arkansas.
The United States is divided into 210 "Designated Market Areas," and each individual county in the U.S. falls into a DMA. (You can click here to view a U.S. map that displays each DMA.)
Your local network affiliates, also known as "over the air" channels, have the right to be the only affiliate of their network in their local DMA if they choose to exercise that right. When a local affiliate makes that request, cable providers must drop "out of market" affiliates that share the same network affiliation as the local station who wants exclusivity.
Here's how that works for Ritter. Our Northeast Arkansas service areas are either in the Jonesboro (Ark.) DMA or the Memphis (Tenn.) DMA. Until recently, FOX did not have an affiliate based in Jonesboro, so Ritter carried the Memphis FOX affiliate in the Jonesboro DMA. Now that FOX has an affiliate operating in Jonesboro, they've asked to be the only FOX station in the area. When they ask, we have to comply. The Jonesboro NBC affiliate recently requested that we stop carrying their out of market affiliate as well.
Individual networks approach this subject differently, meaning some allow affiliates to air outside of their DMA but others don't. For example, CBS has a Jonesboro affiliate, but the network currently allows us to carry both their Memphis and Jonesboro affiliates in our Jonesboro DMA, even though the Memphis station is operating "out of market" in a DMA that contains another CBS affiliate.